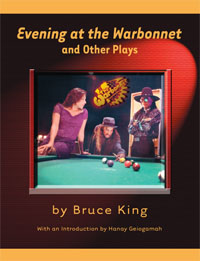 Evening at the Warbonnet and Other Plays

by Bruce King, 2007

The five plays in this collection by Bruce King offer a ride into an American Indian twilight zone that the author has been exploring for much of his career. The abnormal, often surreal settings of these plays provide a backdrop for his observations on the eternal struggle between good and evil and the challenge of living the proper Indian way. From the barbaric, drug-drenched trenches of Vietnam, to a supernaturally challenged Indian home on an Indian reservation, to the hip, familiar sounds and smells of an Indian bar located just this side of the other side, we hear the voice of a moralist who knows all too well how easy it is not to live up to the prescribed code because he himself has been there and done it all.

323 pp.

$18 paper; ISBN 978-0-935626-60-3


A noted playwright, screenplay writer, and artist, BRUCE KING's work has been performed across the United States and in Canada. His plays have been staged primarily in Native American and Canadian Native communities, but also in New York at Café La Mama and the Westside MainStage. King is currently employed with the WarDancer Film Group, a production company. He previously taught theater and theater production at the Institute of American Indian Arts in Santa Fe.
In addition to directing several of his own plays, King has staged pieces for the Institute of American Indian Arts, the Santa Fe Performing Arts Academy, the Armory for the Arts, and the Native American Center for the Living Arts. He has also served as the artistic director of IAIA Players, Indian Time Theater, and the Echo-Hawk Theatre Ensemble. In recent years, King has worked extensively with Haskell Indian Nations University's Thunderbird Theatre and Pat Melody's drama program.
King is a veteran of the Vietnam War, having served three years in the United States Army. He attended Northwestern University, the University of Illinois, NAES College in Chicago, the Institute of American Indian Arts, and Santa Fe Community College. A Sundance Institute fellow, King is member of the Turtle Clan, Hodenausaunee-Oneida Nation, Oneida, Wisconsin, a nation of the Iroquois Confederacy.
HANAY GEIOGAMAH is a professor in the UCLA School of Theater, Film and Television and is the founding director of Project HOOP (Honoring Our Origins and People through Native Theater, Education, and Community Development).